The first Bengawan Solo Cake Shop was a small neighbourhood corner store on the east coast of Singapore, where cakes, kueh (traditional local confectionery) and other sweet confections were lovingly prepared to perfection in the modest back kitchen of Mrs Anastasia Liew. Named after a famous song that Mrs Liew loved about Solo River (Bengawan being an old Javanese word for river), Bengawan Solo Singapore has grown to become an established Singaporean brand synonymous with premium quality cakes and confectionery.
Now, more than 40 years later, this same homemade quality is maintained as each confection is still prepared in the traditional manner, using only the finest and freshest ingredients with absolutely no artificial preservatives. This passion and commitment to great taste, quality and freshness has made Bengawan Solo Singapore a household brand name locally and a firm favourite with overseas visitors looking for a uniquely Singaporean premium food gift.
Signature items include Pandan Chiffon Cake, called Singapore's National Cake by CNN in 2017, perhaps the widest range of kueh in Singapore including Lapis Sagu, Ondeh Ondeh, Kueh Salat, and Asian Specialty Cakes such as Kueh Lapis, confectionaries such as Pineapple Tarts, and a wide range of sweet and savoury cookies such as Macadamia Sugee Cookies and Kueh Bangkit (Coconut Cookies).
We aim to establish Bengawan Solo Singapore in the region and the world as a uniquely Singaporean culinary experience and share our passion for lovingly prepared food without compromising on the principles or quality that define Bengawan Solo Singapore.
Milestones
Since the opening of the first Bengawan Solo Cake Shop in 1979, we have become synonymous with premium quality cakes, kueh, cookies and other delicacies. We pride ourselves on continuing the tradition of using only the finest and freshest ingredients in the preparation of all our items and no expense is spared in ensuring that every delicate little morsel is a culinary delight.
1979 - Bengawan Solo Cake Shop opens as a small neighbourhood corner store in Marine Terrace.
1983 - The first Bengawan Solo Cake Shop Branch opens at Centrepoint, Orchard Road, Singapore's premier shopping belt.
1987 - Starts an all new Central Kitchen in Harvey Road, Macpherson. Bengawan Solo was the pioneer of the central kitchen concept for confectionaries in Singapore.
1990s - The familiar Bengawan Solo logo and shops were given a facelift to appeal to a new generation of consumers. The logo was redone in a lighter script in pink with accents in green. Shops were given a modern look with emphasis on clean lines and a pink and cream theme.
Mid 1990s - The company introduced Baby's First Month Celebration Vouchers. In line with the traditional practice of giving out cakes, red eggs and Angku Kueh when a baby turns a month old, Bengawan Solo Singapore revolutionised this tradition by introducing Baby's First Month Vouchers which could be used to redeem the cakes at the Bengawan Solo Singapore stores island-wide.
1997 - With approximately 18 stores, the central kitchen in Harvey Road and a smaller production kitchen in Tai Thong Crescent could no longer cope with production demands and a decision was made to consolidate and move the entire production operations to Woodlands.
1998 - Opening of the first Bengawan Solo Singapore branch in Changi International Airport Terminal 1 Departure Lounge. This was followed later by another outlet in the Terminal 2 Departure Lounge and the transit area of Terminal 1. They were among the top performing stores with local travellers and overseas visitors buying cakes, cookies and kueh as uniquely Singaporean premium food gifts. Bengawan Solo Singapore products have become part of the great Singapore Smorgasbord.
2005 - A re-branding exercise was started in which the familiar brand was given a new look. Returning to its local South-East Asian roots, the company went back to using batik as a stylistic feature and introduced a logo inspired by a traditional Asian crest and woodcut style letters.
Rich, dark wood was used to convey a uniquely Asian and welcoming atmosphere while bold colours and pictures of the company's signature products were featured on the walls of the stores.
2008 - We were proud to present an all new shop-cafe concept in Serangoon Gardens, featuring new products such as Ice Avocado and Chendol, where customers could enjoy freshly brewed Bengawan Solo Singapore blend of local coffee, tea, freshly baked Kaya (local coconut egg jam) Toast and Eggs with their favourite cakes and kueh.
2010 - Doubled our production space by acquiring and renovating 21 Woodlands Link, the unit next to 23 Woodlands Link (Our Central Kitchen since 1997). A covered link was built and the entire Kitchen was redesigned for HACCP certification. All baking operations were moved to the new kitchen and the current location was renovated to ease space constraints for the remaining departments and to plan in HACCP processes. All production facilities are now HACCP certified.
2019 - Celebrated our 40th Anniversary with the opening of our flagship store at Jewel Changi Airport, where elements reminiscent of our Botanic Gardens, fresh florals, lush greenery and hints of batik showcase our range of local delicacies. A special demonstration counter allows visitors to discover how our signature cakes such as Kueh Lapis are made.
Media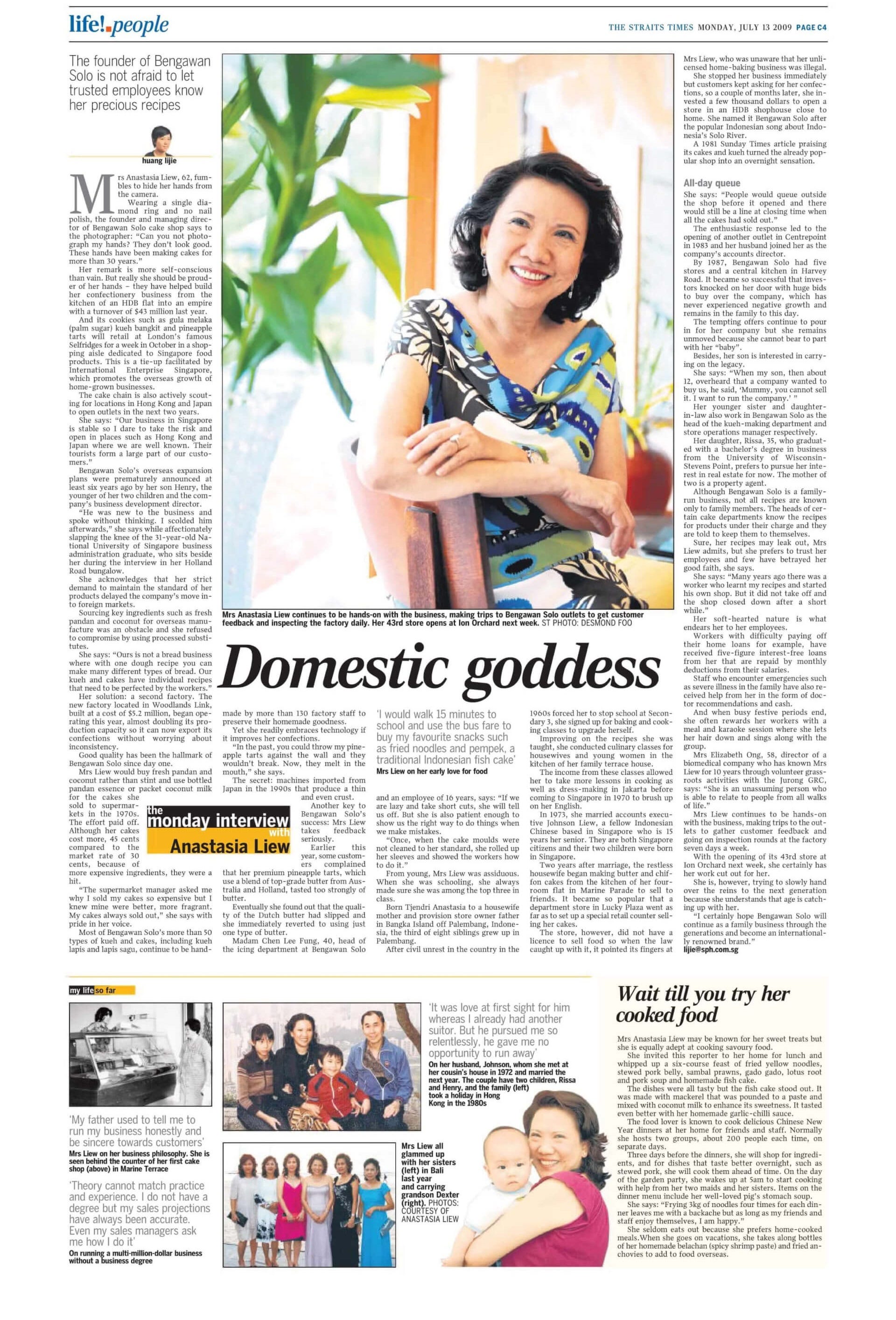 ---